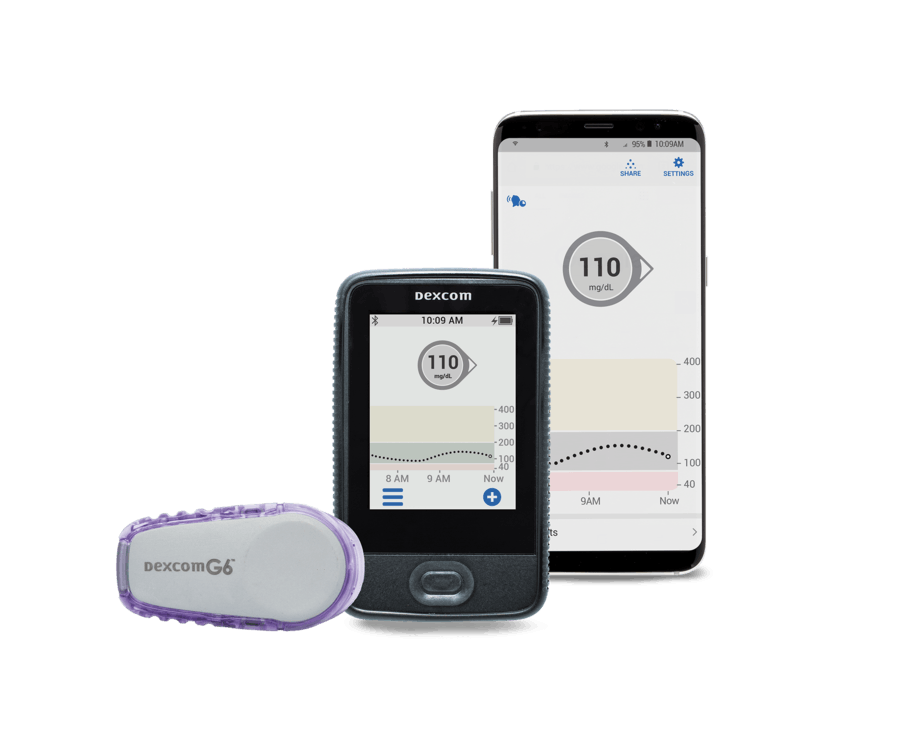 Dexcom G6« CGM System
Knowledge is power ... and the Dexcom G6« Continuous Glucose Monitoring System displays continuous, real-time glucose readings and trends, without the need to manually prick a finger or scan a sensor!
Factory calibrated to allow for zero fingersticks
Custom alerts and alarms send notifications when glucose readings are too high or low
View real-time Dexcom G6 glucose data with a quick glance at your smart device
Slim, water-resistant, 10-day wear sensor is easily inserted with a one-touch applicator
Accurate glucose readings even when taking acetaminophen
Dexcom Follow App allows up to 5 followers to view data from their smart device
Dexcom G6« CGM System
Sensor Life: 10 days
Angle of G6 Sensor Insertion: 90 degrees, with simple, one-touch auto-applicator
Sensor Gauge: 26 (needle)
Receiver Size: 4.2" x 2.5" x 0.55"
Displays Directional Trends: Yes
Displays Glucose Numbers: Yes
Approved Age Range: 2 years and older
Custom Alarms for High & Low Settings: Yes
Alarms for Hypoglycemia: Yes
Range of Receiver to Transmitter or Smart Device: 20 ft.
Transmitter Battery Life: 3 months
Transmitter Size: 1.8" x 1.2" x 0.6"
Water Resistant Sensor and Transmitter: Yes, 8 ft. for 24 hrs.
Download Capability: Auto download from smart device; USB download from receiver; Dexcom Clarity« software with Share feature (up to 5 followers)
REORDER NOW
Existing patients, click to log in or register your CCS Medical account.
REORDER
NEW TO CCS MEDICAL?
New patients, call or click to get started today!
1.888.MEDICAL (633.4225)
GET STARTED