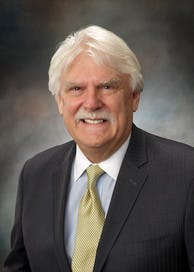 Bill Korslin
President and Chief Executive Officer
Bill Korslin joined CCS Medical as Chief Executive Officer in November 2018. His career in the healthcare industry spans more than 40 years and includes a successful track record of launching and growing market-leading companies with national scope and scalability.
Before coming to CCS Medical, Mr. Korslin operated a healthcare strategic planning consulting firm, during which time he served as acting Chief Innovation Officer for a market-leading, national provider of advanced wound care supplies and services, identifying opportunities for innovation, as well as expansion into existing and adjacent markets.
Before consulting, Mr. Korslin was Founder, Chief Executive Officer and Chairman of Centrad Healthcare, LLC, a $60 million revenue cycle management and billing solutions company that also provided specialty medical supplies and equipment to long-term care and homecare patients across the United States.
Mr. Korslin previously served as Chief Executive Officer of American Pharmaceutical Services (APS), Inc., a subsidiary of Mariner Post-Acute Network, Inc., where he concurrently held the post of Mariner Executive Vice President. Under his leadership, APS grew eight-fold in revenue, from $43 million in 1994 to more than $360 million in 1999, becoming the fifth largest institutional pharmacy in the country.
Mr. Korslin's earlier experience included general management positions in the Durable Medical Equipment division of National Medical Enterprises, Inc. (a predecessor company to Tenet Healthcare), as well as management roles at American Hospital Supply Corporation (now a subsidiary of Cardinal Health.)
Mr. Korslin earned a bachelor's degree in Administrative Sciences from Southern Illinois University.
Read More