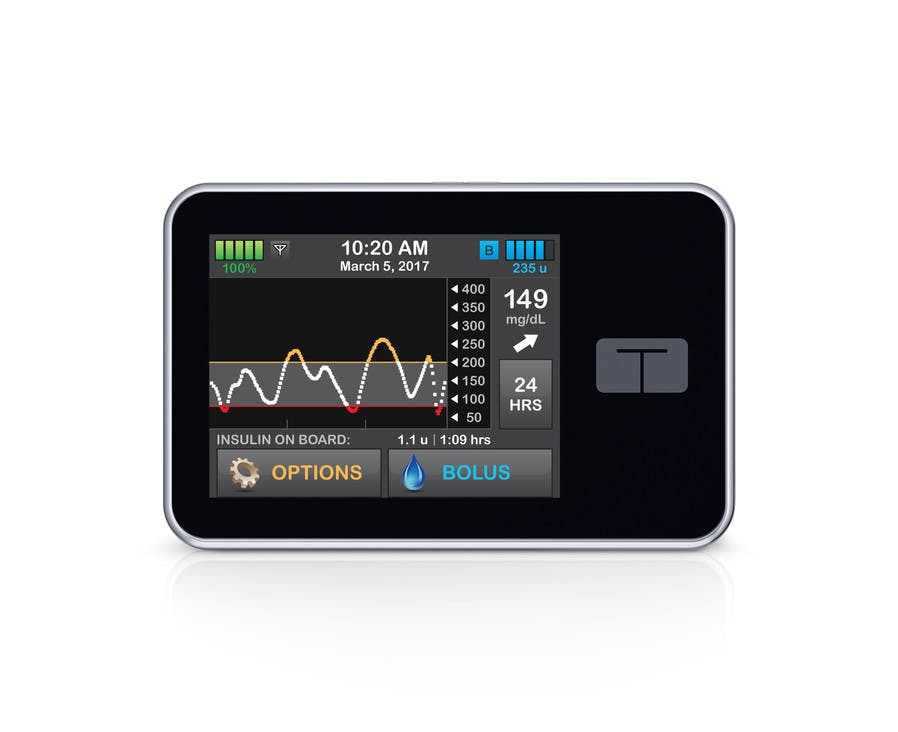 Tandem« t:slim X2« Insulin Pump
t:slim X2« insulin pump hosts advanced touch-screen technology, is powered by the latest rechargeable battery technology and is designed to fit any body and lifestyle.
Now compatible with Dexcom G6« Mobile CGM!
High-contrast color touch screen access to all pump functions
Slim design with a flat insulin cartridge that holds up to 300 units of insulin
Watertight construction tested to 3 feet for up to 30 minutes
Micro-Delivery« technology designed with safety features and precision insulin dosing in the smallest increments available
Advanced bluetooth radio capable of communication with compatible devices and future technologies
Integrated Bolus Calculator with carb-adding capability
Customizable Base Rates
Integrated micro-USB port for charging and data transfer
t:connect« Diabetes Management Application, a web-based Mac and PC compatible diabetes management software
Made to last with a durable, light-weight aluminum case, shatter-resistant glass and a rechargeable battery that holds up to seven days of power
Tandem« t:slim X2«
Insulin Pump Specs:
Memory: 90 days
Use with Water: Watertight - 3 ft. for 30 mins.
Size: 2" x 3.13" x 0.6"
Weight: 3.95 oz. with full reservoir
Battery: Rechargeable lithium polymer battery
Backlight: Yes
Screen Display: Color touch screen
Available Colors: Black
Basal Rate Minimum Start: 0.001 units at programmed rates > 0.1 units/hour
Total Basal Rates/Profiles: 6 profiles, 16 timed settings per profile
Temporary Basal Rate: Yes (from 15 mins. to 72 hrs.)
Minimum Bolus Increments: 0.01 units
Reservoir Capacity: 300 units
Data Management: t:connect« Diabetes Management Application (web-based, Mac & PC compatible)
Compatibility: Windows Vista, XP, 7, Mac, Cloud-based
CGM Specs:
Sensor Life: 7 days
Angle of Sensor Insertion: 45 degrees
Sensor Gauge: 26 (needle)
Receiver Size: 4" x 1.8" x 0.5"
Displays Directional Trends: Yes
Displays Glucose Numbers: Yes, every 5 minutes
Approved Age Range: 2 years and older
Customizable Alarms for High & Low Settings: Yes
Alarms for Hypoglycemia: Yes
Range of Receiver to Transmitter or Smart Device: 20 ft.
Transmitter Battery Life: 3 months
Transmitter Size: 1.5" x 0.9" x 0.5"
Water Resistant Sensor and Transmitter: Yes, 8 ft. for 24 hrs.
Download Capability: Auto download from Smart Device, USB download from receiver
REORDER NOW
Existing patients, click to log in or register your CCS Medical account.
REORDER
NEW TO CCS MEDICAL?
New patients, call or click to get started today!
1.888.MEDICAL (633.4225)
GET STARTED