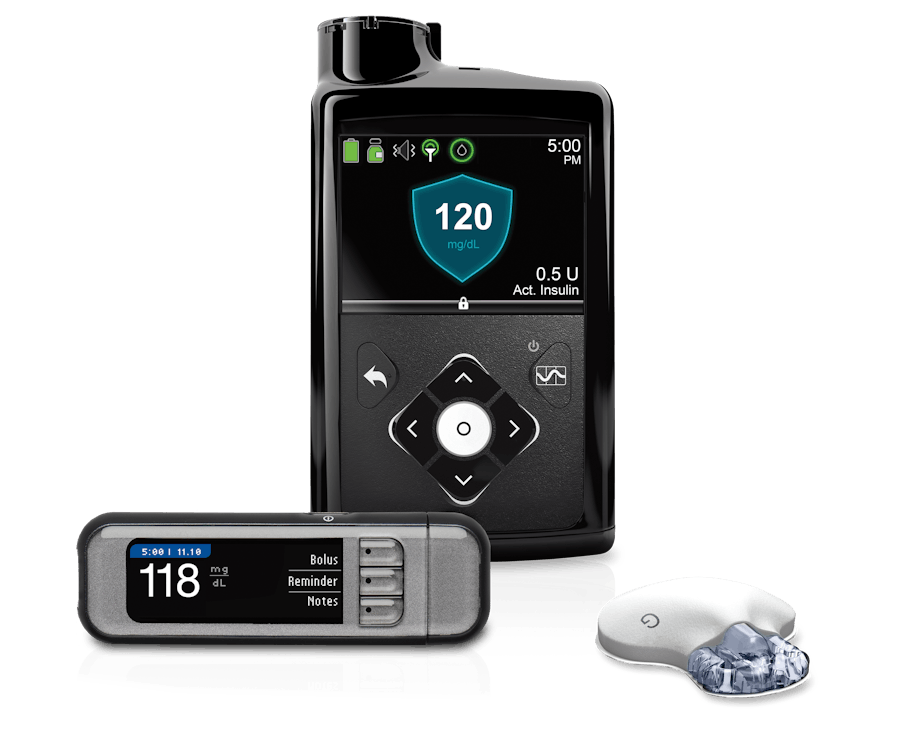 Medtronic MiniMed« 670G Insulin Pump System
The MiniMed« 670G Insulin Pump System is the first hybrid closed loop (HCL) system.
This system offers the most advanced SmartGuard« HCL technology, with two new levels of personalization.
Manual Mode with the Suspend Before Low feature automatically stops insulin 30 minutes before pre-selected low limits, then restarts once insulin levels recover.
Auto Mode continuously reads sensor glucose values and automatically adjusts basal insulin every 5 minutes.
Guardian Sensor« 3 provides up to 7 days of wear
Waterproof design with user-friendly color screen and simple menu
Built-in CGM allows for wireless transmittal of glucose information every five minutes
Bolus Wizard« makes it easier to calculate mealtime insulin and may avoid insulin stacking
CCS Medical offers Ascensia Diabetes Care strips for use with Medtronic pumps for many insurance plans.
Medtronic MiniMed« 670G Insulin Pump System
Insulin Pump Specs:
Memory: 90 days
Use with Water: Immersion for 24-hours at a depth of up to 12 ft.
Size: 2.1" x 3.78" x 0.96"
Weight: 95.7 grams
Battery: One AA lithium battery (AA alkaline battery acceptable)
Backlight: Yes
Screen Display: Color screen
Available Colors: Black
Basal Rate Minimum Start: 0.025 units (up to 35 units)
Total Basal Rates/Profiles: 8 basal patterns
Temporary Basal Rate: Yes (8 preset temp basal rates)
Minimum Bolus Increments: 0.025 units
Reservoir Capacity: 300 units
Data Management: Medtronic CareLink« software
Compatibility: Windows Vista, XP, 7, 10, Mac
CGM Specs:
Sensor Life: 7 days
Angle of Sensor Insertion: 90 degrees, with One-Press Serter
Sensor Gauge: 27 (Sensor is 80% smaller because the tubing was removed, making it more comfortable)
Receiver: Displays on pump, no separate receiver
Displays Directional Trends: Yes
Displays Glucose Numbers: Yes, every 5 minutes
Approved Age Range: 14 years and older
Customizable Alarms for High & Low Settings: Yes
Alarms for Hypoglycemia: Yes, will suspend for at least 30 minutes and up to a maximum of 2 hours
Range of Receiver to Transmitter: 6 ft.
Transmitter Batteries: Rechargeable
Transmitter Size: <1" in diameter
Water Resistant Sensor and Transmitter: Yes (Pump - 12 ft. for up to 24 hours; Transmitter - 8 ft. for 30 minutes)
Download Capability: Mac/Windows
REORDER NOW
Existing patients, click to log in or register your CCS Medical account.
REORDER
NEW TO CCS MEDICAL?
New patients, call or click to get started today!
1.888.MEDICAL (633.4225)
GET STARTED