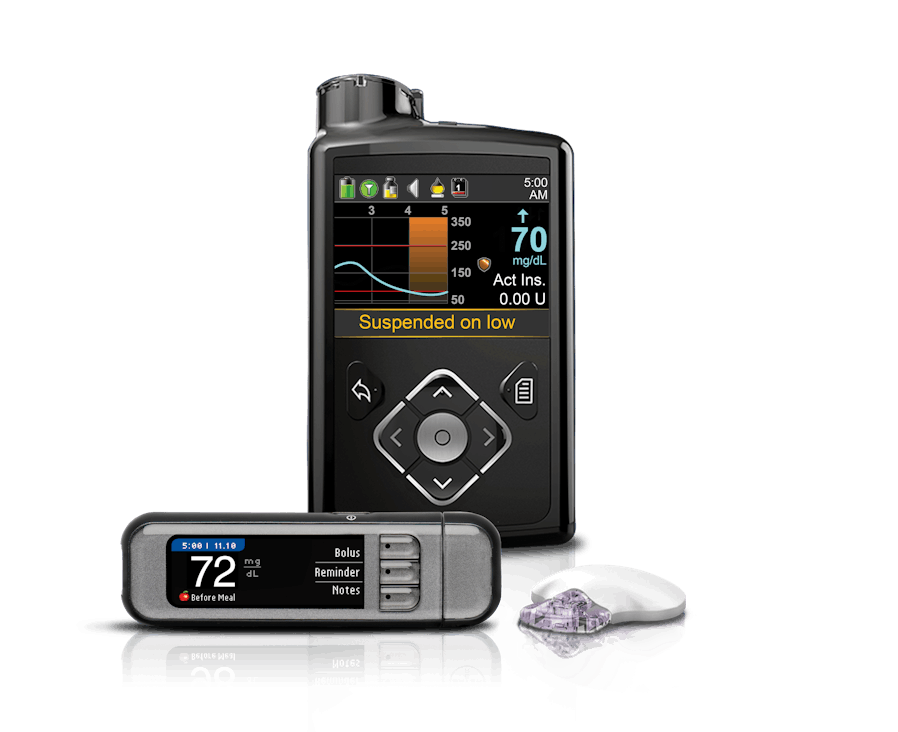 Medtronic MiniMed« 630G Insulin Pump System
The MiniMed« 630G Insulin Pump System is a complete solution designed for advanced diabetes control.
Waterproof design with a user-friendly color screen and simple menu
Built-in CGM allows for wireless transmittal of glucose information
Remote insulin dosing with the Bolus Wizard«, which helps to calculate mealtime insulin and may avoid insulin stacking
Continuously delivers insulin, with a tubing change needed only every two or three days
Multiple insulin delivery settings to meet unique needs
Enlite Sensor« sends readings to insulin pump every 5 minutes, helping to identify trends and make adjustments
CGM tracks glucose levels throughout the day, including the effects of food or exercise
Predictive alerts given up to 30 minutes ahead, if trending high or low
CCS Medical offers Ascensia Diabetes Care strips for use with Medtronic pumps for many insurance plans.
Medtronic MiniMed« 630G Insulin Pump System
Insulin Pump Specs:
Memory: 90 days minimum
Use with Water: Immersion for 24-hours at a depth of up to 12 ft.
Size: 2.1" x 3.78" x 0.96"
Weight: 3.38 oz.
Battery: One AA alkaline battery
Backlight: Yes
Screen Display: Color screen
Available Colors: Black
Basal Rate Minimum Start: 0.025 units (up to 25 units)
Total Basal Rates/Profiles: 5 basal patterns + work day/sick day
Temporary Basal Rate: Yes (8 preset temp basal rates)
Minimum Bolus Increments: 0.025 units
Reservoir Capacity: 300 units
Data Management: Internet-based CareLink« Personal & CareLink« Professional software (physician offices)
Compatibility: Windows Vista, XP, 7, 10, Mac
CGM Specs:
Sensor Life: 6 days
Angle of Sensor Insertion: 90 degrees, with a hidden needle
Sensor Gauge: 27
Receiver: Displays on pump, no separate receiver
Displays Directional Trends: Yes
Displays Glucose Numbers: Yes, every 5 minutes
Approved Age Range: 16 years and older
Customizable Alarms for High & Low Settings: Yes
Alarms for Hypoglycemia: Yes, will suspend on low if alarm is not recognized, insulin delivery suspends for 2 hours
Range of Receiver to Transmitter: 6 ft.
Transmitter Batteries: Rechargeable
Transmitter Size: 1.4" in diameter
Water Resistant Sensor and Transmitter: Yes, 8 ft. for 30 mins.
Download Capability: Mac/Windows
REORDER NOW
Existing patients, click to log in or register your CCS Medical account.
REORDER
NEW TO CCS MEDICAL?
New patients, call or click to get started today!
1.888.MEDICAL (633.4225)
GET STARTED