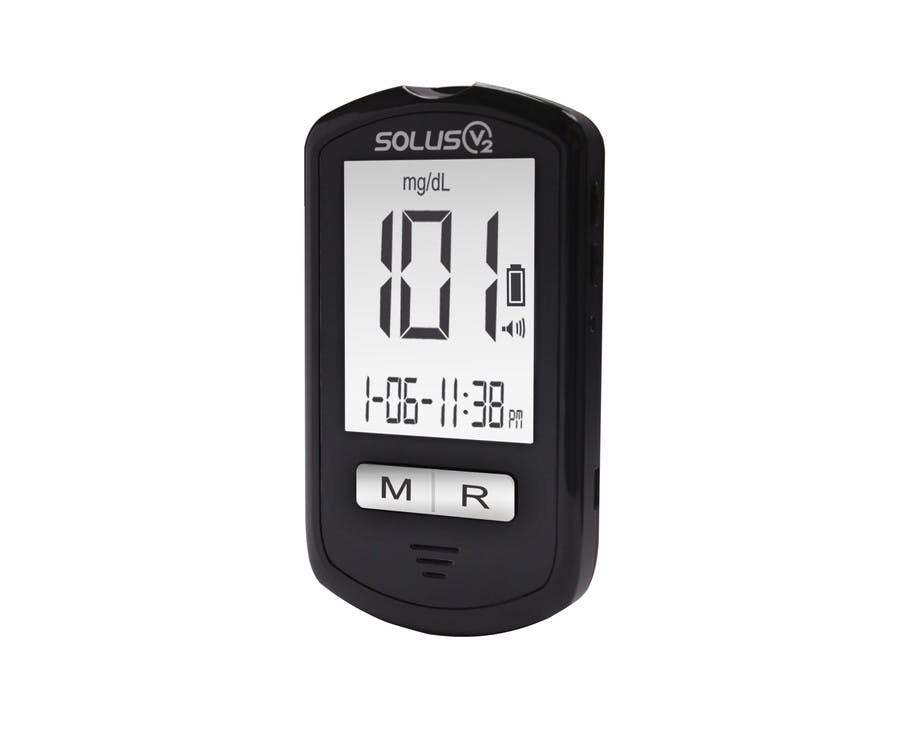 BioSense Solus V2 Blood Glucose Meter
Solus V2 is a fully audible meter for ease of use and offers personalized settings for greater blood glucose control.
All settings are fully audible, including set-up, test results, memory recall, averages and reminders
500 test result memory with averages for weeks and months
Data management system; connect meter to computer with USB cable
Bi-lingual; speaks English and Spanish
8 volume settings for easy adjustments
Low blood glucose warning for increased security
Alarm reminders to help recall when to test
Before- and after-meal indicators for improved control
Large screen display for ease in reading results
CCS Medical offers all the top brand-name products. If you don't see what you are looking for, contact one of our helpful Customer Service Representatives.
BioSense Solus V2
Memory Results: 500
Reporting Range: 20-600 mg/dL
Minimum Sample Size: 0.7 µL
Averages: 7, 14, 28, 60, 90 days
Test Time: 6 seconds
Computer Download: Yes
Coding: No
Size: 2" x 3.75" x 0.63"
Weight: 2.65 oz.
Meter Color: Black
REORDER NOW
Existing patients, click to log in or register your CCS Medical account.
REORDER
NEW TO CCS MEDICAL?
New patients, call or click to get started today!
1.888.MEDICAL (633.4225)
GET STARTED