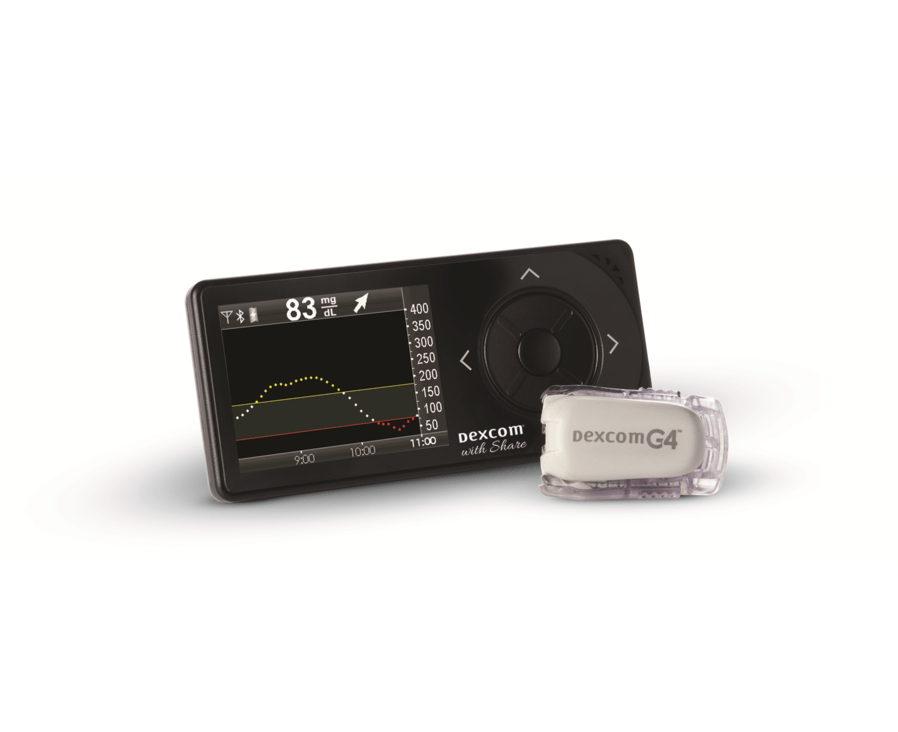 Dexcom G4« PLATINUM CGM System with Share
Dexcom G4« PLATINUM System with Share is a CGM with Bluetooth technology built into the receiver, enabling remote monitoring capabilities.
Through secure wireless connections, glucose levels, trends and data can be shared on an Apple iPhone«, iPod« touch or Apple Watch
Transmitter can send glucose signals up to 20 feet to the receiver for added flexibility
Customizable alarms allow setting high or low alerts with tones and melodies
Trend graphs, directional trend arrows, and current glucose levels keep user fully informed at all times
Sensor is approved for up to 7 days of use
Receiver comes in three colors - black, blue and pink
Works with Animas« Vibe and Tandem« t:slim G4 insulin pumps
Dexcom G4« PLATINUM System with Share
Sensor Life: Up to 7 days
Angle of Sensor Insertion: 45 degrees
Sensor Gauge: 26
Receiver Size: 4" x 1.8" x 0.5"
Displays Directional Trends: Yes
Displays Glucose Numbers: Yes
Approved Age Range: 2 years and older
Customizable Alarms for High & Low Settings: Yes
Alarms for Hypoglycemia: Yes
Range of Receiver to Transmitter: 20 ft.
Transmitter Battery Life: 6 months
Transmitter Size: 1.5" x 0.9" x 0.5"
Water Resistant Sensor and Transmitter: Yes, 8 ft. for 24 hrs.
Download Capability: Mac/Windows
REORDER NOW
Existing patients, click to log in or register your CCS Medical account.
REORDER
NEW TO CCS MEDICAL?
New patients, call or click to get started today!
1.888.MEDICAL (633.4225)
GET STARTED